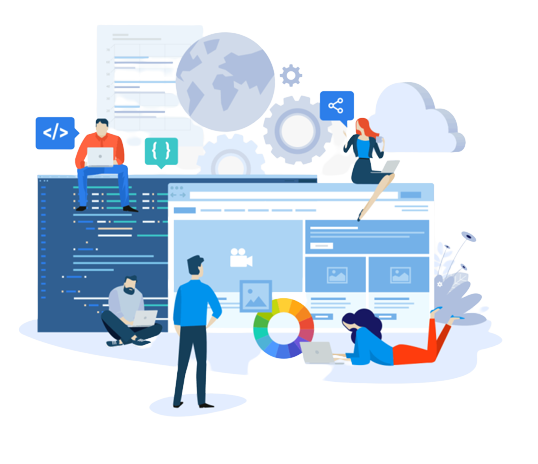 Product Development
Here at Atharv Technolabs, new products are created and brought to market. It encompasses everything from the initial crafting of the product idea to the designing, engineering, making, marketing and launch of the product to the target audience
Atharva Technolabs web development services are intended to support all kinds of web-based software. We deliver fast and intuitive websites and online solutions.
Idea Generation
The inception of every new product starts with an idea. And to generate the ideas, companies can focus on customer demands and needs. Alternatively, they can also focus on analysing the choices of their competitors.
Idea Screening
Not every idea is suitable to become a product. For that reason, companies have to screen the ideas. Companies can label an idea as promising and act on it, marginal and try to improve it, or simply poor and reject it. It is also very important for companies to avoid any bias related to the source of the idea. So even if someone like Steve Jobs pitches an idea, the company should still be very careful with it.
Product Development Process
During the third stage of the process, the product idea grows into multiple concepts. Companies will repeat the screening process to choose the best of them and pit them against each other.
Marketing Strategy
Once a company decides on the product, they will have to spend time developing a marketing strategy for it. Experts will evaluate the size of the market, demand for the product, and revenue estimates. The marketing team will get a budget for their efforts and they can select distribution channels.
Business Model
The development of a business model works very similarly to the development of a marketing strategy. The experts in the company will estimate the costs and profits and manage the potential of the product.
Manufacture
At this stage, the production finally begins. The company will make multiple prototypes and choose on which designs get to go to the next stage. Also, the company will, once again, perform a cost analysis to see if it matches the estimates.
Branding
Once the company finally has a physical product in their hands, the marketing team can get to work. For starters, they can develop the brand name, packaging, and the marketing message behind the product.
Product Launch
The final phase of the product development process is the commercialisation phase. The product is launched, and it is followed by a developed marketing strategy in order to maximise its earning potential.
Maintenance And Support
Get Professional App Management, Help Desk, and Evolution
Atharv Technolabs support and maintenance services help to improve customer satisfaction, achieve maximum app availability, speed up backlog implementation, and reduce operational costs.
Application support and maintenance services are aimed at ensuring that all types of apps are highly available, reliable, and relevant to your constantly evolving business needs.